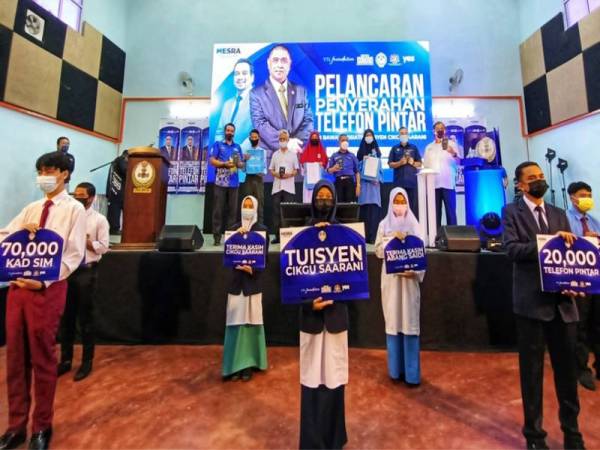 PARIT: Some 20,000 students from B40 families in Perak will be getting a smartphone and SIM card to help with their studies.
Perak Mentri Besar Datuk Saarani Mohamad said the project was a collaboration between the state government and YTL Foundation.
"During the lockdown, students relied fully on gadgets and just because schools are open now, it doesn't mean the students do not still need them.
"The 20,000 students will receive SIM cards with 10Gb of data, " he told a press conference after presenting the smartphones to students at Dewan Dato Ahmad Hambal in Bota here yesterday.
Saarani added that another 50,000 cards with 40Gb data would be distributed to other students as well.
"The recipients will be decided by the state government and we plan to distribute the smartphones and SIM cards as soon as possible, " he said, adding that at least 200 smartphones had been distributed to needy students in Parit.
Separately, the state Umno chief said party members were entitled to give opinions but they must continue to toe the party line.
"At the end of the day, everyone should refer to what party president Datuk Seri Dr Ahmad Zahid Hamidi said during the Umno general assembly.
"Everyone can give their opinion, but we should continue to adhere to what has been decided by the party during the general assembly, " he added.
Source: https://www.thestar.com.my/news/nation/2021/04/02/b40-students-in-perak-receive-a-digital-helping-hand?fbclid=IwAR3dxeOGCycPwzopMnwYZYSsMOI_7uDWYYBgW3rg2WYx8KO4RJQTSCYyV-M