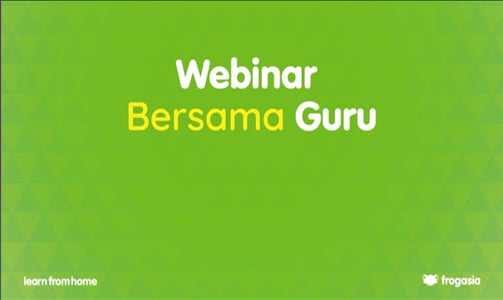 TO encourage and support teachers who are required to continue conducting lessons remotely, a campaign called Webinar Bersama Guru is currently being held under the Learn From Home initiative by YTL Foundation and FrogAsia.
The free webinar series, which ends Dec 9, features teachers sharing their best practices for effective 21st century teaching and learning each week.
The current school year has been a challenging one for both students and teachers due to the pandemic, said FrogAsia executive director Lou Yeoh.
"At FrogAsia, it is important for us to provide as much support and assistance as possible to help ease the transition into digital learning for students and teachers.
"Since the movement control order (MCO) was first implemented in March, our Learn From Home initiative has been helping parents and students cope with learning from home, " she said, adding that the recently concluded Gerak Gempur revision programme was an expansion of the initiative to empower students, teachers and parents as the spike in Covid-19 cases shuttered many schools.
"At the moment, we are seeing teachers and students racing to complete the school syllabus and preparing for examinations amidst school closures, so we wanted to support students in their revision by organising online revision lessons hosted by experienced subject teachers, " she added.
The Gerak Gempur home-based revision sessions were held for Mathematics, Science and English and Bahasa Melayu subjects. They were hosted by experienced subject teachers who provided tips on revision and taking examinations, and led the various participating classes from across the country in completing revision quizzes live, using the Frog platform.
Commending FrogAsia on the Gerak Gempur exercise, teacher Hazwan Hamdan from SABK Maahad Ehyak, Kg Gajah, Perak, said: "The Gerak Gempur revision exercise is an excellent initiative by FrogAsia to ensure students get an opportunity to do online revision with an experienced teacher. With this, students are still able to continue with their syllabus even though they are residing in an area affected by the CMCO."
Meanwhile, teacher Nik Kamariah of SMA Kota Gelanggi 3 in Pahang said her students really enjoyed being able to take part in the Gerak Gempur revision exercise with students from other schools.
"It is an interesting initiative in enabling students to learn and test their understanding with students from other schools, " she said.
While the Gerak Gempur sessions have wrapped up, students can still benefit from the Learn from Home FrogSchool.
Lessons are available for free at: ytlfoundation.org/learn.
Source: https://www.thestar.com.my/news/education/2020/11/29/free-digital-learning