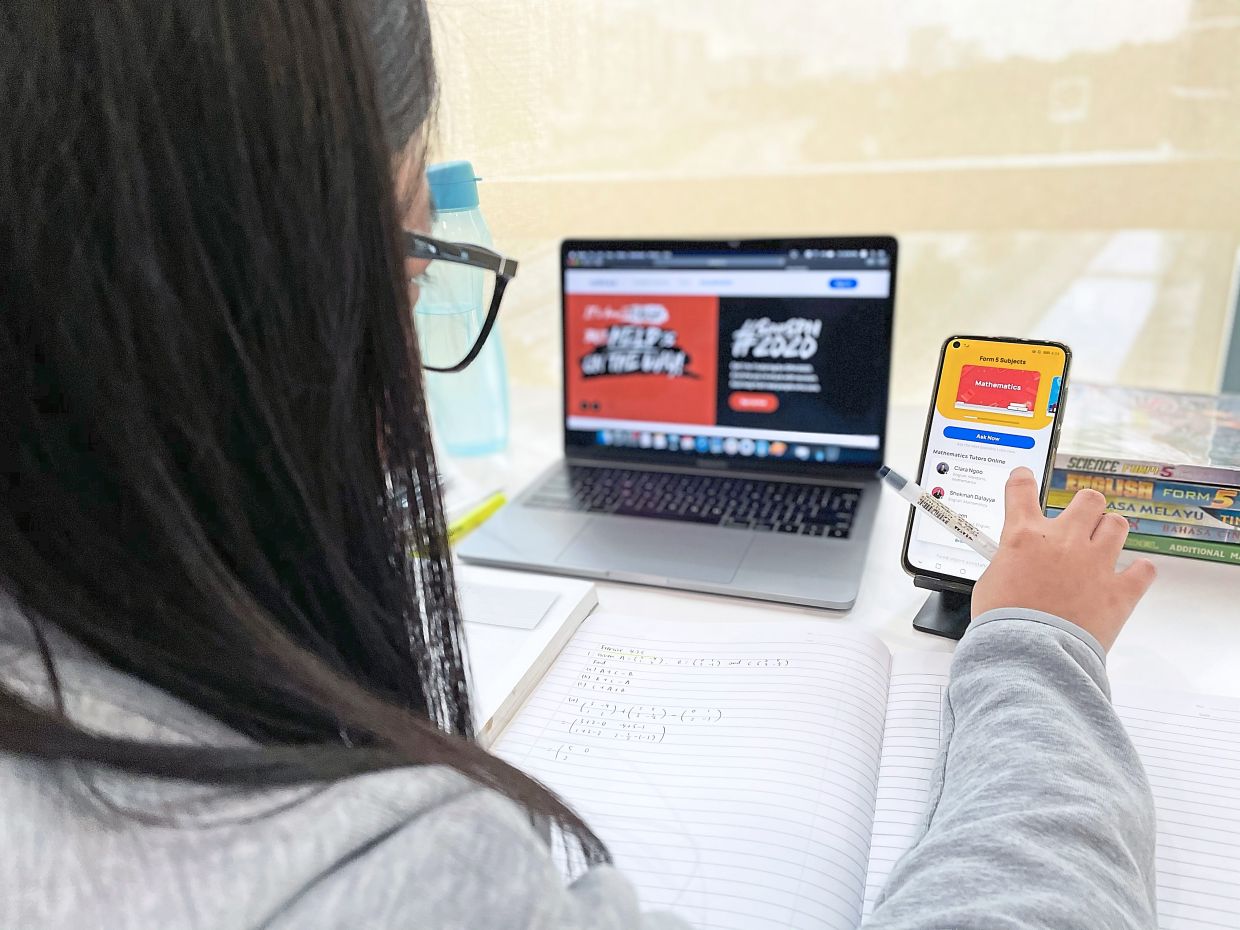 IT'S been almost a year since schools moved their lessons online but the perennial problem of unequal access to gadgets and stable Internet connection have hindered the learning progress of some.
Students from the SPM 2020 batch are understandably the most anxious of the lot.
They have had to struggle not only with learning online, but with the lack of revision time due to the movement control order.
Determined to be part of the solution, several non-governmental not-for-profit organisations and individuals including former education minister Dr Maszlee Malik, have banded together to provide easy and cheap – in some cases free – access to education.
Maszlee recently launched "Sophia", a free online learning platform with over 13,000 free educational resources for students of all ages, while Dimsum Entertainment, a subscription video-on-demand service (dimsum.asia), is giving students access to e-tuition platforms EzLearn2U and SayPBS, for RM10 a month.
The content is delivered creatively, with subjects tailored to students' learning needs to help them learn better.
EzLearn2U uses simple teaching applications and concepts customised for Year One to Form Five students.
SayPBS, on the other hand, provides education materials by tailoring subjects according to students' learning needs.
Here are some others that are also doing their bit to help.
Free online lessons
JUST ahead of the start of the national school academic year, the YTL Foundation uploaded 278 new lessons covering the entire national primary and secondary Bahasa Melayu (BM) curriculum for Year One through to Form Five onto its "Learn From Home" content platform.
The lessons were co-created with subject matter experts from Universiti Kebangsaan Malaysia.
YTL Foundation programme director Datuk Kathleen Chew said: "With movement restriction orders intensified around the country amid rising Covid-19 cases and most students still unable to attend school in person, many parents are very concerned about the continuity of learning."
This, she said in a press release, is especially so in the new academic year, as children move into new classes and age groups, and some into new schools.
"In the midst of this unfamiliarity and uncertainty, we want to empower parents and students with materials and resources for online learning at home, " she said, adding that "Learn from Home" levels the playing field in education by equipping every child with the tools to learn, wherever they are.
The "Learn From Home" initiative was launched in March last year during the first wave of the pandemic to help parents support their children's learning.
A key pillar of the initiative is Frog School – a repository of free online lessons and quizzes, developed in collaboration with FrogAsia, a not-for-profit organisation committed to equipping teachers and learners with knowledge, information and skills through the effective use of technology.
"We now offer 1,272 curriculum-aligned lessons on Frog School, covering BM, English, Maths and Science.
"Parents can start with Lesson One and follow the lessons through to the end of the year from Year One to Form Five, and we even have content for pre-schoolers, " Chew said.
Students who use the "Learn From Home" platform can also access more than 13,500 revision quizzes covering the same learning content, through the FrogPlay mobile gamified app.
And, under the "Learn from Home" initiative, national school and university students can also apply for free YES 4G prepaid SIM cards with 40GB of data valid for two months while B40 families can also apply for a free phone with a 12 month data plan. For details, visit ytlfoundation.org/learnfromhome.
Community classroom
INITIATED by non-governmental organisation Dignity for Children Foundation (Dignity), with the support of the UNHCR, the programme which has 10 teachers educating over 300 students, brings education to the grassroots, particularly to refugee communities in Malaysia.
The organisation operates educational programmes in Sentul, Kuala Lumpur, for those aged between two and 18 years old.
"We have developed over 200 workbooks focusing on numeracy and literacy which we use to train community educators who in turn will teach the children in their respective communities, " Dignity co-founder and chief executive officer Petrina Shee said, adding that workbooks for children aged between nine and 12 years old are being developed.
Dignity project coordinator Fadlin Linsai said not all its educators are trained as teachers but they hold professional degrees.
"They could not do what they were trained for because they are refugees. With the Community Classroom programme, they are able to give back to their communities while acquiring skills that will help them make a fresh start and earn a living either locally or when they settle in a new country, " Fadlin said.
As an indication of commitment, each student is required to pay RM50 a month to attend classes and their progress will be assessed after the completion of each phase before they progress further, Dignity said in a press release.
Fadlin said he hopes to extend the programme to his home state of Sabah where educators, particularly in the interiors, face many challenges.
Real time tutoring
TEACH For Malaysia (TFM), an independent organisation committed to ending educational inequity, teamed up with REAL Education Group and on-demand video tutoring app AskBee to launch the #SaveSPM2020 campaign.
As part of the campaign, the video-based tutoring app provides SPM 2020 candidates with one-to-one revision tutoring for RM1 per session.
The app aims to help SPM 2020 candidates with their revision through live, on-demand guidance from volunteer teachers and tertiary students.
"We want to add the human element to digital learning so that any time a student is struggling, they will be able to clarify what they're watching or hearing, and get real time help from real people who care, " AskBee founder Jason Khong told StarEdu.
TFM chief executive officer Chan Soon Seng said many SPM students from low-income communities have not been able to learn during this time.
"Students who may need to share a device with their parents and siblings can request for targeted support at their convenience.
"If a student gets stuck while studying a topic; all he or she has to do is call,
request for a tutor and get one-to-one video tutoring from a teacher or a university student who's scored an A in that particular subject, " he explained.
REAL chief executive officer Dr Goh Chee Leong said the app is a platform where students and tutors can be matched in real time.
Lessons are delivered securely via an in-app video conference that's custom-built for learning, Khong said.
The idea came about during the first MCO last year when the team volunteering in low-income communities had to stop teaching and Khong's friends with school-going kids were pulling their hair out working from home while their kids were studying online.
This led to the team experimenting with live tutoring on social media to understand the challenges that parents, students and tutors faced. Nine months on, the app originally designed to assist school students of all ages, was born.
"After observing the challenges faced by the 2020 cohort of Form Five students, we felt that they had more urgent and immediate concerns that needed to be addressed. They've had less than six months of face-to-face learning so we focused on helping and cheering them on to stay strong, study hard and give their best, " he said, adding that the aim is also to help working parents who do not have much time to guide their children.
To motivate the students, state assemblymen Rajiv Rishyakaran and Michelle Ng are sponsoring 20 sessions each for 250 elligible students attending secondary schools in their Bukit Gasing and Subang Jaya constituencies.
"Due to the pandemic, the SPM 2020 has been postponed twice.With the MCO in effect again and barely one month to go before the SPM 2020 exams, students will need as much coaching and assistance as possible during this crucial period, " Rajiv said in a statement.
Source: https://www.thestar.com.my/news/education/2021/01/24/to-help-learners-cope-stakeholders-are-stepping-up-to-do-their-bit