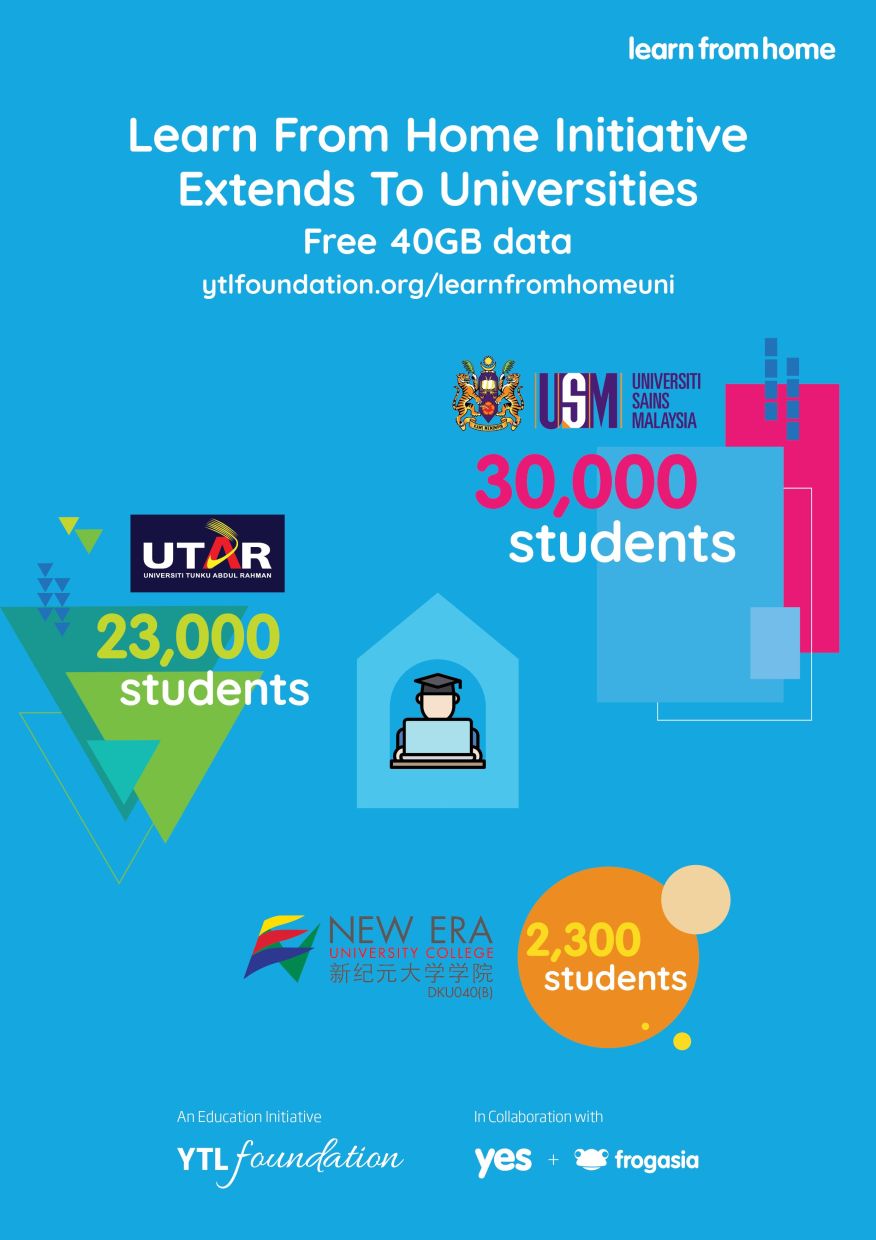 KUALA LUMPUR: Universiti Tunku Abdul Rahman (Utar) students are the latest beneficiaries of YTL Foundation's Learn From Home initiative.
Like other tertiary institutions in the country, Utar's 23,000 students from its two campuses in Sungai Long (Selangor) and Kampar (Perak) have to attend online lectures and complete assignments while staying at home.
 The university approached YTL Foundation to help its students cope with remote online learning during the temporary closure of the university due to the movement control order.
"We fully appreciate the stress that university students are facing, having been displaced from campus. Having access to fast Internet connection is critical at this time in order that their studies can continue with minimal disruption," said YTL Foundation chairman Tan Sri Dr Francis Yeoh.
"Despite Utar being a private university, its fees are among the lowest in the country as it is a not-for-profit institution largely funded by the community to ensure that the university's excellent courses remain accessible to students from low income families.
"We are therefore pleased to extend the free Yes 4G prepaid SIM cards with 40GB of data to Utar students to support them during this time."
From now until May 31 2020, Utar students can apply for the free Yes 4G prepaid SIM cards at www.ytlfoundation.org/utar. Each student is entitled to one free SIM card. The SIM card will be delivered to the student's address.
Utar president Prof Dr Ewe Hong Tat said: "During this period of the MCO, where teaching has transitioned into online learning, the most important link between staff and students of the university is through the Internet.
"Internet access and the speed of the Internet are important for a rewarding online learning experience and for students to access the resources available to successfully complete their course work.
"Utar is deeply grateful that YTL Foundation has come forward with its Learn From Home initiative to provide that much needed assistance for students via the free Yes 4G prepaid SIM cards with 40GB of data.
"This will ensure better equity to Internet access among our students especially those who currently have limited Internet access at home."
YTL Foundation also announced that the free Yes 4G SIM cards will soon be made available to students from New Era University College.
Parents with children in government schools and independent Chinese secondary schools, as well Universiti Sains Malaysia students can visit www.ytlfoundation.org/learn to apply for the free Yes 4G prepaid SIM cards and to register for the FrogPlay Mobile revision quiz app and lessons in English, Mathematics and Science for students from Year 1 to Form 5.
For regular updates on the initiative, follow YTL Foundation on Facebook, Instagram and Twitter.
Source: https://www.thestar.com.my/news/nation/2020/05/04/utar-students-study-online-via-ytl-foundations-learn-from-home-initiative